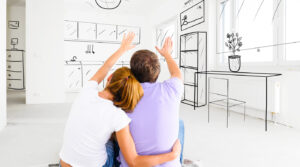 Renovating or building a home is an exciting yet scary proposition for many of us. The end result and the possibilities are the exciting part – the work and decisions required in the middle are the scary bits.
So what lessons can you learn from those who've gone before you?
#1 Can't get sufficient funding
Get your mortgage broker involved from the beginning
The obvious starting point is to find a good builder, but if you're planning on getting a loan to fund your reno or new build, then you need to speak to your broker first.
Over the last couple of years, lending has tightened a lot, so you need to know what you can borrow and how to maximise your borrowing capacity.
Find a good broker and start the conversation so that you know what you need. Think about your building options, the possibilities and different scenarios and seek their advice on ways to structure the loan.
#2 You've signed the builders contract but the bank said no to the money
Don't sign the build contract until you have the lenders approval for your loan
A contract is a hard (and often expensive) thing to get out of. So if you sign a contract for the build without knowing exactly how you're going to fund it, you could end up in all kinds of trouble.
If you've bought land and planning on building, you need the current land value plus value of the construction. With the recent price correction that many locations in Australia have been experiencing, the land value may have decreased if you've owned if for more than a year, and you may have access to less money to build based on that new valuation.
If you're renovating, you need to know that the forecast new value of your home will stack up to meet the lender's criteria.
Again, your broker can work through this with you.
#3 The lender doesn't see it your vision and family needs
Make sure you're adding value – in the eyes of the lender as well as your family
Spending $300,000 to renovate a four bedroom home and ending up with a three bedroom home, may not make sense to the lender. Make sure that the work that you're doing will increase the value of your home, not just make your family happier and more content. Take a look at what is selling in your neighbourhood and the price they're selling for. Remember that you're (usually) renovating or building to live in the home you're creating. You often have no interest in its potential sale price because you're not selling. However the lender wants to know that if you forfeit on your mortgage, they will recoup their money. Their only interest is the value of the property and knowing that you're a good risk.
#4 Valuation has come up short
Tell the valuers what they need to know so that you get a great result
Don't make valuers work to give you a good, accurate valuation!
Include as many details of specifications, fixtures and fittings in the build contract as you can. A new kitchen could be a galley kitchen with refurbed cabinets, laminex benchtops and budget appliances or it could be a massive chef's kitchen with 6 burner gas cooktop, high end double oven, rolled marble benchtops, huge island and a walk in butler's pantry. They're both kitchens. One is going to be valued much higher than the other.
Include the details. Tell them what they're looking at and paint the picture for them.
The best part about this is that you will have made many decisions about fixtures and fittings right at the beginning so you won't be stressed making last minute decisions when the builder phones and asks what tiles you're using in the bathroom or what tapware will be in your kitchen.
#5 The lender doesn't like the builder's payment schedule
Does the payment schedule from your builder meet local standards AND the lenders criteria?
Some builders stage progress payments so that they receive regular cashflow so they can pay their staff, contractors and suppliers. Most lenders want to see the payment schedule based on task completion so they know that what they're paying for has been completed to your satisfaction.
With construction loans, funds are released according to the payment schedule, so the builder and the lender must agree to the payment schedule in the contract.
Again, don't sign a building contract until the lender has agreed to the payment schedule otherwise the builder can pull out of the job and you will be in breach of contract.
#6 You're under-funded
Talk through your options, thoughts and ideas with your broker before you apply for your loan
You've almost finished work on your house and you've decided to put the pool in after all, or the house is so beautiful, you've decided to keep it rather than sell it, or local real estate prices have skyrocketed, the build was easy and there's a fabulous little house around the corner waiting for me to wave my magic wand and give it a make-over.
Whilst we'll never know exactly what the future holds, it's always good to think about the possible ending points at the start of a journey.
If there's a possibility of increasing your spend on the project, then it's usually much easier to get the funding at the beginning than the end. If you need another $75K for the pool, include it in the beginning. If you end up not putting the pool in, just don't draw it down and it will decrease the amount of your loan.
If you're going to keep the house rather than sell it, talk to your broker so they can talk you through your options. If you're selling rather than keeping and need a new loan to buy that other "renovator's dream", talk to you broker.
Building and renovating can be fun. Finding out that you can't fund the project is not fun. Not even close. Make sure that doesn't happen by getting your broker involved early.