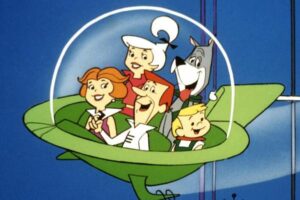 It's 2020 and there's not a Jetson or flying car in sight! (or am I showing my age by that reference?)
Seriously, 2020 sounded so far away just 21 years ago when we were wondering what a new century would bring – and now we're into the third decade of that century! How did that happen?
It's a great reminder of how fast time flies. And an even better reminder that we can either let time pass us by or put it to good use.
What are you choosing?
Will you be making 2020 a year that makes a huge difference to your life? Will you look back this year and think "Wow! That was awesome. How the hell did I achieve all that?"
I've made a commitment to live my life with intention and it's been a game-changer. I have goals and milestones, I have targets, schedules and a spending plan. I have a tribe of people who support me in both my personal and professional life. It's hard work and sometimes a juggling act, but it's awesome.
So what goals will you be working towards this year? Do they align with your values? Do they stretch you a little without stretching too far? Do they play into the bigger picture you have for your life? What support will you need? Can I help you achieve them?
If you want this year to make a difference to your world, invest some time into goal setting, planning and even a bit of daydreaming.
Let me know your biggest goal. I get so inspired hearing what others want to achieve.
Get to it and enjoy!