Want to know what the property market is really doing in Brisbane? Well let's take a look at the CoreLogic figures are telling us.
Firstly, let me explain who CoreLogic is, in case you don't know. They are Australia's leading property market researchers. They run the stats, the numbers, the data – everything, based on what's actually happening out there in the real world of real estate. They report on those facts and figures without bias or speculation. So when we're looking for real information, rather than turn to media outlets, we turn to Core Logic.
As of the end of July 2020, property values saw a decrease of 0.4% for the month and a decrease of 0.9% for the quarter, but… the annual change is up 3.8%. This figure is lower than Sydney and Melbourne figures, but it's still holding.
Of course, there are many things currently supporting the property markets around nationally. Record-low interest rates make borrowing very easy for those with secure jobs and good incomes. The record levels of government support and also the repayment holidays for distressed borrowers also help to insulate any immediate impact on property values. Additionally, the federal and state government incentives for first home buyers has increased demand for entry level houses.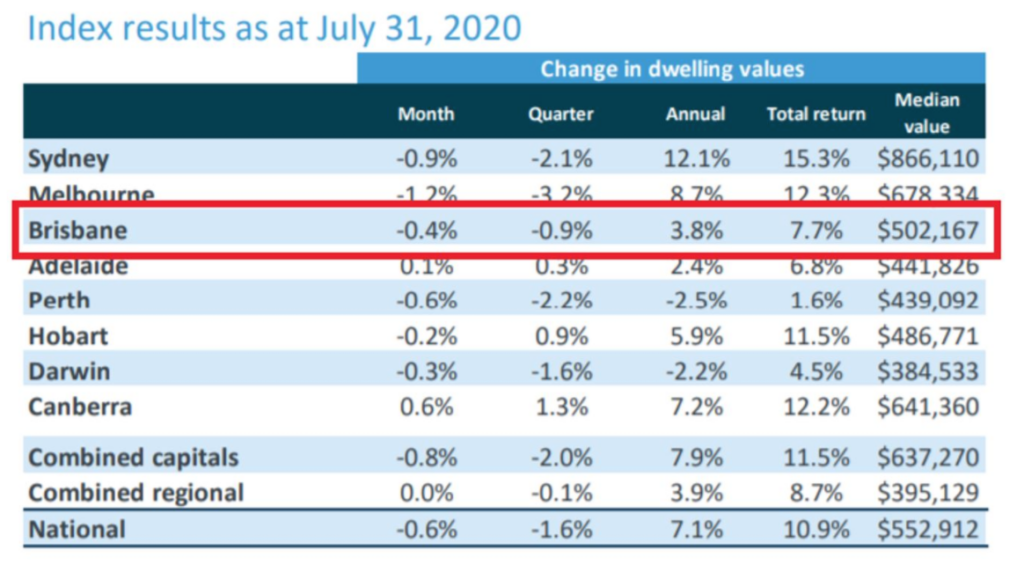 So values are holding and even increasing. That's a great sign.
On the ground in Greater Brisbane, we're seeing lots of interest from buyers. Quality homes in desirable locations are being put on the market and they're selling at a good pace. During July some open homes that the researchers attended had 30-40 groups through, which demonstrates that the interest is real and the buyers are active.
If you're hoping to buy a "pandemic bargain", chances are high that you'll be disappointed because we're just not seeing that predicted "crash". Many properties are being sold off-market for good prices and both buyers and vendors are being savvy rather than greedy.
These figures remind us not to get caught up in the little peaks and troughs along the way and certainly not to get caught up in media hype about booms and busts.
For the vast majority of us, buying property is a long term investment. In reality, the value of our property is only relevant on the day we sell or refinance, not today, tomorrow or next month.
If you are looking to buy or sell, our advice is to do your research – compare CURRENT, LOCAL sales and listings. Talk to agents. Let them know you're serious. Ask for verification of the figures you're being shown. Get clued up on fact rather than fiction.
Good luck. You know who to talk to when you need finance!